1
Raw yarnimg
Raw yarnAcceptance of raw yarn is the first process of production. This is an important process as a starting point for production and product origin. Our suppliers are not only domestic makers but also various makers in the worldwide. We decide various material types in the marketing and planning. We select the best material for each product among 500 types of polyester, polyamid, elastane/spandex, and acetate
Major suppliers: Toray, Asahi Kasei, Teijin, Mitsubishi chemical, etc.
2
Warpingimg
WarpingThe selected raw yarn is sent to the Warping process, which is the adjustment process to supply the specified number of yarns at even tension.
As the number of raw yarns differ depending on the type at the time of acceptance, it is correctly adjusted in this process and 600 yarns are wound on one beam. We use machines from a German maker, Karl Mayer for warp knitting requiring high certainty and speed.
For strict quality control, high-performance monitoring computers are used for all warping machines.
3
Warp knittingimg
Warp knittingWarp knitting creates superior texture, soft feel and fit. Compared with weft knitting and circular knitting, warp knitting can create a variety of patterns and thickness from thin to thick fabric. In the warp knitting process, the warped yarn wound on the beam is sent to the knitting machine by the crane vehicle or lift, and set to the machine. The beam rpmand inch are entered into the computer, and the yarn is set. To cope with a wide range of demands, we use two types of knitting machines: Single tricot and double Raschel.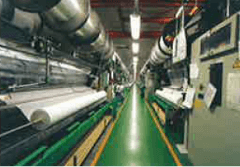 [Single tricot]
The single tricot is used for a wide range of clothes. This is the major knitting method for highly-demanded clothes including outer wears for women, underwear, uniform, outer wear for men, sportswear, and swimsuit.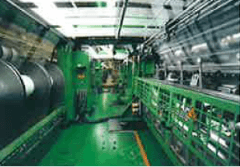 [Double Raschel]
The double Raschel fabric The other is the spacer fabric. This fabric has three layers and is used as one sheet of fabric. Owing to its strength and specialty, it is recently used as medical materials and industrial materials.
4
Inspection and shipmentimg
Inspection and shipmentThe knit fabric is sent to the inspection site.
After the fabric passes the inspection, it is packed and shipped. The detected problems are fed back to technical divisions to improve quality control.